Priyanka Chopra Jonas feels 'surreal' as Unfinshed gets featured on New York's billboard — view pic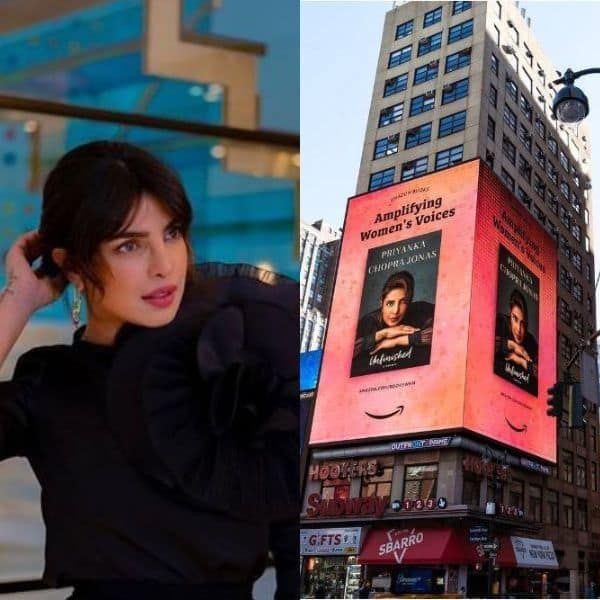 Priyanka Chopra Jonas has ruled the roost as an actress in Bollywood and also in Hollywood. She recently turned author and published a memoir in which she narrates incidents, shares experiences and her journey in the world of entertainment and more. The actress's book has been received well by the masses. Right from Gal Gadot to Sofia Vergara and more, Unfinished touched a lot of celebs too. After winning hearts with The White Tiger, Priyanka Chopra is grabbing headlines for her book, Unfinished. It featured on New York's billboard and the actress called it 'surreal'.
Taking to her Instagram handle, Priyanka shared the picture of the billboard and posted a heartfelt caption alongside it. "#Unfinished on a six-storey @amazonbooks billboard in NYC outside of Penn Station ?… Surreal! So thrilled to be included in this #WomensHistoryMonth celebration to amplify women's voices. What makes it more special is that it's exactly a month since I released Unfinished!" Have a dekko at the post by Priyanka Chopra here:
Meanwhile, Priyanka Chopra had opened up on being asked to leave the sets for demanding equal pay as that of a male costar. "They said to take the paycheque which was nominal compared… There's so many other girls who will take this opportunity. And, you know, women in movies are interchangeable," Priyanka said on the Skimm'd from The Couch podcast.
She added, "I didn't do anything about it. I had to work within the system because that's what we're told, that, 'You know, if you want this job this is the only way'." Further adding, "It took almost 15 years for me to get to that place where, you know, I could stand my ground. It took hearing the conversations from other women banding together to give me the confidence to stand up for myself."
You are made for more such achievement, Priyanka. Keep making India proud with your achievements.
Hey there! BollywoodLife.Com Awards 2021 are back and Nominations Are Now Open!
Click Here to Nominate Your Favourites and Stand a Chance to WIN Exciting Prizes.