FKA Twigs receives support from Shia LaBeouf's ex, Margaret Qualley, after she makes public her domestic and sexual abuse by the Transformers actor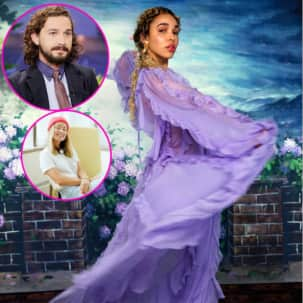 FKA Twigs left people in shock when she spoke about the kind of abuse she endured in her relationship with Shia LeBeouf. She has filed a lawsuit against him alleging domestic and sexual abuse. It seems he would abuse her throughout their relationship and even gave her a sexually transmitted disease knowing well that he was afflicted by it. They split in 2019. In an interview with Elle, FKA Twigs has detailed how she came out of the abusive relationship. Now, Shia LeBeouf's ex Margaret Qualley has written Thank You for FKA Twigs on her social media handle where she has shared the cover.
Shia LaBeouf and FKA Twigs met on the sets of the movie, Honey Boy. They dated for less than a year. They had split in 2019 citing work pressures but later she filed a case citing domestic abuse. FKA Twigs said that Shia LaBeouf would not even allow her to look at other men even if it meant saying a polite Thank You. She told BBC, "For me it was being nice to a waiter or being polite to somebody that could be seen as me flirting or want to engage in some sort of relationship with somebody else when I'm literally just ordering pasta and being polite. I was told that I knew what he was like, and if I loved him I wouldn't look men in the eye. So that was my reality for a good four months towards the end of the relationship, that I wasn't allowed to look men in the eye." She is not the only one who has accused him of being an abusive partner. Kathryn Pho and singer Sia have also said that he is a controlling man who indulges in gaslighting.
Margaret Qualley and Shia split a month after the allegations came to fore. They met after he did her sister's music video.