Chris Hemsworth's huge biceps get all the attention as the hunk is seen cycling with Elsa Pataky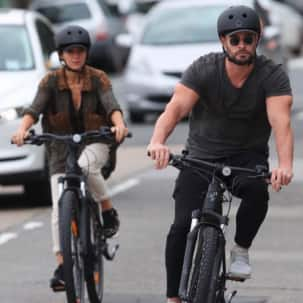 Chris Hemsworth enjoys immense popularity all over the globe especially as Thor from the Marvel Cinematic Universe. It is a known fact that he is a family man. He got married to Elsa Pataky in 2010. The couple are parents to three kids. Paparazzi has now got pics of Chris Hemsworth and Elsa Pataky who seem to be enjoying cycling in Sydney. Chris Hemsworth is from Australia and the couple live in the country in a sprawling home by the sea. The pics of the cycling ride have gone ride. Women just cannot stop staring at Chris Hemsworth's biceps. He looks so hot in this shredded avatar.
We can see that Chris Hemsworth is wearing a black top with matching pants. She is in a checked shirt with denims. The couple love outdoors. For the Thor film, he underwent a very tough fitness routine. It was said that he even ate six meals a day, which included a hot of protein. However, the actor has also done what is termed as vegan body-building. He is also very fond of swimming and surfing in the ocean. He is also a lot into circuit training.
On the other hand, Elsa Pataky is a lot into yoga. She does a lot of weight training and stretching. It seems she is very competitive when it comes to work out and it has helped her immensely. The actress loves Mediterranean food and does intermittent fasting as well. She told Marie Clare in an interview, "I don't believe anything about diets, like quick diets that you do before summer. Those miracles don't exist. Although, I was like 'I don't want to lose weight' because it's a great way to lose weight, if you need to lose weight but you won't lose weight if your body doesn't need to."