BTS: Suga gives the cutest expression as his band mates surprise him with a cake on his 27th birthday – watch video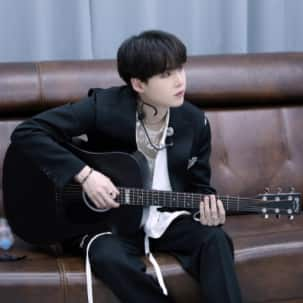 BTS member Suga has turned 27. It is a huge day for the BTS Army that is celebrating his birthday on social media and through various platforms. He also did a VLive with his fans. He said that he knew his band mates well enough to know that they did plan a surprise for him. There is a video where we can see one of them bringing a cake for Suga. The cute expression given by him is sure a steal a million hearts. Min Yoon-gi who is known as Suga is a rapper and producer. He is from Daegu. Min Yoon-gi comes from the town of Daegu and made his debut in 2013 with BTS.
(@BTS_twt) March 8, 2020
Fans from all over the world have sent him birthday wishes. Donations have been made at various places in his honour. It is a known fact that Suga has spoken about LGBTQ rights and mental health issues.
You're all I ever need Yoongi-ah ?@BTS_twt #SUGA #HappyBirthdayYoongi #HappyBirthdaySUGA #SUGADAY pic.twitter.com/vDUuoWIu46

?MinMarch~ YoonJin SoPe OT (@ililynet) March 9, 2021
#HappyBirthdayYoongi #SUGADAY#HappyBirthdaySUGA #YoongiDay#SUGA # # # # # @BTS_twt pic.twitter.com/9AgGNBP0O5

Mali (@Malibatgirl) March 9, 2021
2021 SUGA day #BTS #BTSARMY #Suga #MinYoongi #Yoongi #Yoongles #AgustD #MinSuga #SUGADAY pic.twitter.com/KGz6JXvKvt

Joonie_aRMy ? (@Joonie_aRMy94) March 9, 2021
To my favorite person #Yoongi #SUGA ?

I've always admired you for your comforting and splendid music, kind words, intelligence, & everything in you. Thank you for being my serotonin booster?

I love you so much! ?#HappyBirthdayYoongi @BTS_twt pic.twitter.com/VmaCobXKLf

Michi | YOONGI DAY? (@SugaNoMichi) March 9, 2021
When BTS surprised Yoongi with a cake having 5 candles in it & asked why 5 candles? & Taehyung just- pic.twitter.com/0HoYeUtssL

Sam Yoongi? (@taesmug) March 8, 2021
Happy birthday Yoongi oppa…. Have an amazing year ahead… And take care… Sarangeyo oppa… #yoongi #birthday #suga #amazing #minyoongi pic.twitter.com/nTEjKE4ACI

Anu (@Anu11711083) March 9, 2021
We also wish Suga a very happy birthday. Like the ARMY, we too are waiting with excitement for the 63rd Grammy Awards!